The Wing Collector (coming Fall 2017) from Dark Edge Publishing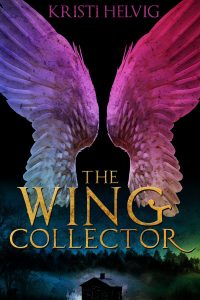 When a pair of faerie wings fetch big bucks online, Lila Kincade realizes her kind aren't just oppressed—they're hunted.
Due to hostility and discrimination by humans, half-human/half-faerie Lila lives in a world where faeries are required to register with the government and bind their wings in order to look like everyone else. When a serial killer targets her kind in Chapel Hill, North Carolina, Lila embarks on a mission to save her race from extinction, only to discover that she is the killer's prime target.
COUNTDOWN CAFE coming July 2017 from Dark Edge Publishing
In this short story, a teen grieving the loss of her sister stumbles across a strange coffee shop where the customers and staff are not who they seem.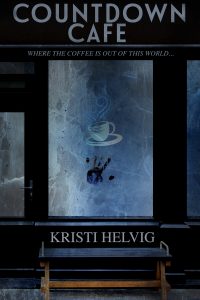 TICK TOCK: 7 Tales of Time (March 2016) from Wicked Ink Books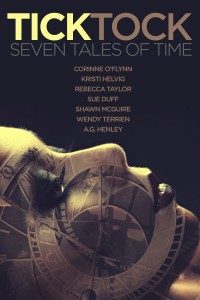 Finalist for the 2017 Next Generation Indie Book Award in the Anthology category!
Seven Fantasy and Science Fiction authors have twisted time into tales of adventure, mystery, horror, and romance:
A serial killer returns years later to finish what was started.
A coffee shop offers a respite for the cursed.
A hangover masks the horrors of the previous night.
A princess's wedding gift comes with a price.
A locked apartment door hides a chilling secret.
A girl wakes up in an asylum and must survive, and escape.
A young woman must protect the past to thwart a thief from the future.
All it takes is a second…a minute…an hour…for everything to change.
Praise for TICK TOCK:
"This is an incredible collection of novellas with a unified theme (time). It was intriguing to see how each author wove her own tale based on this premise. The true variety of stories in Tick Tock were refreshing and kept me turning the pages! Some stories were darker than others, but they were all exceptionally written and completely engrossing, with breathtaking twists and turns. Well done, authors!" –Bookatrix review
"No time to waste, buy this now! Wow I'm still feeling blown away by this anthology. I absolutely loved these stories and it was neat to see how each author wove their "time" stories perfectly into this. Although these stories shared a similar theme, time, they were all quite different from each other…making it a fun fast variety filled read. I was addicted to this whole anthology and the best part is that most of these authors are new to me."–Leanna W.
OFF BEAT: 9 Spins on Song (April 2017) from Wicked Ink Books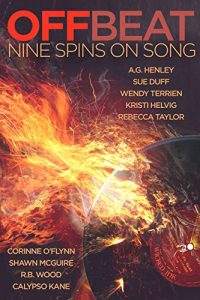 Inspired by favorite songs, nine fantasy and science fiction authors spin tales of adventure, intrigue, mystery, and horror.
A boy follows his girlfriend's suicide note to its disturbing conclusion.
A man must pass on an ancient curse of immortality before his time finally runs out.
Two lost beings fight for life, for each other, and to find a way home.
A serial killer from the future, banished to present day, must control her homicidal urges in order to survive.
A thief and a sex worker find their paths unexpectedly entwined in ways that threaten both of their lives.
For a caged girl, one hand gives, but the other takes away all she's ever known.
To gain their freedom, quarreling townsfolk must find a way to cross a bottomless ravine.
A man interrupts a monster at work and is determined to entertain the creature long enough to stay alive.
When his father's ghost appears, a businessman is forced to reflect on his life.
BURN OUT (Book 1) April 2014 Egmont USA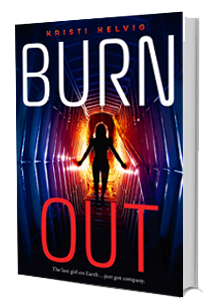 The last girl on Earth…just got company.
"A scorching series opener not to be missed." Kirkus Reviews
Most people want to save the world; seventeen-year-old Tora Reynolds just wants to get the hell off of it. One of the last survivors in Earth's final years, a teenage girl yearns to escape the wasteland her planet has become after the sun turns "red giant," but discovers her fellow survivors are even deadlier than the hostile environment.
More Praise for BURN OUT:
"I haven't read a book this good for quite some time. It's cinematic, enthralling, and addicting." — Book Whales review
"This is the kind of science fiction I love!  Strong characters, good story building, science that makes sense (as far as I can tell), and something both sexes would thoroughly enjoy.  Our world is really bleak but human resilience is strong.  Tora and the people who want her guns are complex and well-developed and have a lot to lose if they can't figure out a way to work together.  There is romance and fighting, massive wind storms in the nights, hope and despair, and it was a book I could not put down.  I can't wait to tell people about it!  Teachers:  This could be a really good book to recommend to your students as it has a ton of good Common Core and STEM ingredients to it." — Rene Fitzpatrick, children's bookseller and owner of Eagle Harbor Book Company.
BURN OUT BOOK 2: STRANGE SKIES (April 28, 2015) Egmont USA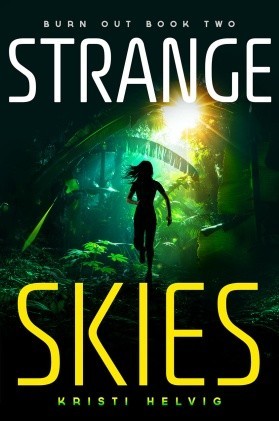 Caelia is the new Earth. That's what the Consulate tells everyone, and against all odds, Tora finally makes it there. However, she has yet to see an ocean since the view from her prison cell in Consulate City leaves a lot to be desired, and she knows nothing about what happened to the stolen weapons. Upon discovering that one of her guards is someone she had trusted, Tora learns that Kale's intentions are more sinister than she first realized. She vows to break free, get the guns, and save her father. Yet first she must navigate a strange new planet, track down James, and find Kale—while hoping he doesn't find her first.
Praise for STRANGE SKIES:
"The sequel to 2014's Burn Out proceeds at breakneck speed…ever- increasing stakes and a solid cliff-hanger ending will have thriller fans hanging on every word." — Booklist review
"Wow! What a fantastic second book if I've ever read one. I loved Burn Out and Strange Skies keeps up the Sci-FI goodness that Kristi Helvig executed in the first book. It was fast paced and explosive…Kristi Helvig is definitely on my top list for authors of Sci-fi."— Library of a Book Witch review
"An action-packed and sexy sequel to Burn Out. I can't tell you how much I love how snarky this book is. It has really sarcastic moments that I just find charming and hilarious. If you haven't already picked up this trilogy, do it now!" — review from Brittany's Book Rambles
"STRANGE SKIES was a thrilling, heart-pounding sequel that you don't want to miss…if you like thrilling dystopians with action and adventure, and a fight for survival, with an awesome cast of characters, then STRANGE SKIES should definitely be your next read, as it does not disappoint!" —Addicted Readers review