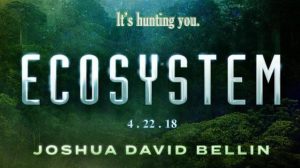 I'm so excited to have Joshua on the blog today to celebrate the release of his new novel, Ecosystem, which sounds amazing. Don't forget to enter the Rafflecopter contest at the end of the post for your chance to win a signed copy of Ecosystem! Here is the fabulous cover: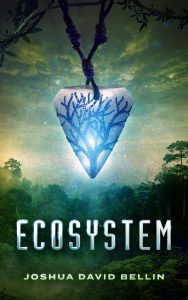 Seventeen-year-old Sarah is a Sensor, gifted with the ability to survive within the sentient Ecosystem that swept away human civilization centuries ago. While the remnants of humankind huddle in small villages of stone, Sarah uses her psychic connection to the Ecosystem to travel freely in the wild in search of food, water, and fuel. Sarah doesn't fear the Ecosystem—but she hates it for killing her mother when Sarah was a child. When she hunts, she hunts not only for her people's sustenance but for revenge.
Then Miriam, an apprentice Sensor, is lost in the Ecosystem, and Sarah sets out to rescue her. Joining Sarah is Miriam's beloved, Isaac, a boy who claims to possess knowledge of the Ecosystem that will help their people survive. The harrowing journey to find the missing apprentice takes Sarah and Isaac into the Ecosystem's deadliest places. And it takes Sarah into the unexplored territory of her own heart, where she discovers feelings that threaten to tear her—and her society—apart.
A thrilling fantasy adventure from the author of Freefall and the Survival Colony series, Ecosystem is the first book in a YA trilogy that includes The Devouring Land (2019) and House of Earth, House of Stone (2020).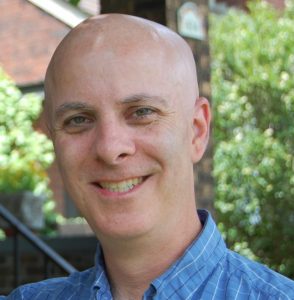 About Joshua:
Joshua David Bellin has been writing novels since he was eight years old (though the
first few were admittedly very short). A college teacher by day, he is the author of three science
fiction novels for teens and adults: the two-part Survival Colony series (
Survival Colony

9
and
Scavenger of Sou
l
s
) and the deep-space adventure
Freefall
. His new book, the YA fantasy
Ecosystem
, releases on April 22, 2018 (Earth Day). Josh loves to read, watch movies, and spend
time in Nature with his kids. Oh, yeah, and he likes monsters. Really scary monsters.
Joshua was kind enough to answer some questions about his newest book so I'll let him take it away!
1) The idea of a sentient planet is fascinating and terrifying. How did you come up with the concept for Ecosystem and was it influenced at all by current events such as climate change?
I've always been a huge Nature geek–whether that meant playing with frogs when I was ten years old (see the photo) or, more recently, participating in environmental advocacy on issues including climate change, fracking, and so forth. Maybe this explains why, as a writer, I've been drawn to extreme environments–the desert setting of SURVIVAL COLONY 9 and SCAVENGER OF SOULS, the dead planet of FREEFALL, etc. So the thought popped into my head one day, "What if I set a story in a world where the environment wasn't just threatening but was actually aware, and angry, and out to get human beings?" That led to other questions: "How would people survive in such a world? How did it come into existence?" And once I started asking those questions, I couldn't stop until I had all the answers!
2) That's awesome and leads right into the next question. I'm a huge research nerd, and love the research part of writing my books (sometimes to the point of procrastination), so can you talk about what research you had to do for Ecosystem and if you discovered something along the way that surprised you?
I don't want to give too much away about the science of ECOSYSTEM, but I did do some research into the emerging field of genetically engineering natural systems. It's kind of JURASSIC PARK territory, but not for entertainment; it's more a matter of trying to restore ecosystems that have been critically damaged by human activities. I also had to do lots of research about existing organisms and habitats, because in the Ecosystem, lots of plants and animals that exist today have changed in ways that make them dangerous to human beings. I'd say the most surprising thing I discovered had to do with the medicinal properties of certain plants. I tweaked things for the purposes of fiction, but it was really fascinating to learn about traditional methods of healing.
3) It sounds fascinating and seems like it entailed a ton of research which takes time. I see that you also teach college classes, so how do you balance all your researching/writing time with your work without losing your mind?
Would it be safe to say that I don't? 🙂 No, seriously, this semester is a good example of how crazy things get: I have four classes, all of which involve significant amounts of student writing, so there literally isn't a day that I'm not grading papers. What I try to do is write during the morning before classes, because I tend to be most productive as a writer in the morning. Then, at night, when I'm less creative, I focus on the more mechanical tasks of grading and preparing for class. But even with this schedule, I don't get much writing done until the summer, when I can look forward to three months of solid writing time!
4) I have an author friend who works in the school system and she writes a book every summer for that reason. Three months of writing time sounds heavenly! In terms of your writing, are you a plotter (who outlines ahead of time) or panster (winging it as you go), or some combination thereof?
I tend not to plot things out much, because I find that my stories feel most natural and real to me when I'm discovering things while I write them. A perfect example of this occurred in another manuscript I'm working on, where one of the characters is restrained for reasons I won't go into right now, and he asks a character who's watching him for some water, and as she's rather inexperienced, she removes the restraints to let him drink. Later, when she's out of the room for a moment, he escapes, and she feels so guilty and angry about being tricked, she pursues him. I didn't plan that scene at all; in fact, when I was writing it, I didn't really know what the relationships were between the characters. But the very natural action of removing the restraints so the person could take a drink led me to think, "well, maybe now he'll try to get away," which made me think, "why WOULD he try to get away?", which led me to think about who he was and what he was running from. And then, when she follows him, the book veers in yet another direction I hadn't foreseen. I guess I could have worked the other way around, planning it all out beforehand, but I don't think I'd have come up with that particular sequence of events if I had.
5) Yeah, I tend to write minimal plot outlines and let the characters do the rest. So to end on a fun note, what is something that not many people know about you? But they will now. 😉
Like a lot of writers (and teachers), I'm pretty articulate in public speaking situations, which tends to give people the idea that I'm super-confident. But I'm not. I find it very difficult to engage in small talk, which is one reason I don't attend a lot of conferences; I never know what to say to people whom I don't know very well, so I duck out of receptions and other such events as soon as I can. I'm basically shy, I guess. That's one thing that connects me to the narrator of ECOSYSTEM, who's a teenage girl named Sarah; she's isolated for reasons that have to do with the story, and in consequence, she's awkward and prickly in social interactions. And I never thought about that connection until I started answering this question, so I'm glad you asked it!
That's great, and I think a lot of writers can relate to that. Hope to see you at a conference some day, and thanks so much for the interview, Joshua!
Go here to grab a copy of Ecosystem on
Amazon
!
Here are some links to find out more about Joshua, and you can stop by other blogs on Joshua's book tour
here.
Finally, don't forget to enter the Rafflecopter Giveaway for your own signed copy!
a Rafflecopter giveaway